Clusters
Choose a Read Industrial milking cluster if you want ruggedness and easy manageability. Our clusters are simple to maintain and offer full visibility of milk in the claw-piece bowl, to assist the operator in identifying any potential issues that might affect milk quality.
Clusters include:
automatic shut off valve

stainless steel teat shells

options for different teat shell weights

square or round rubber liners

stainless steel or plastic claw-piece
clear plastic screw on bowl

short pulse tube

long milk tube

long pulse tube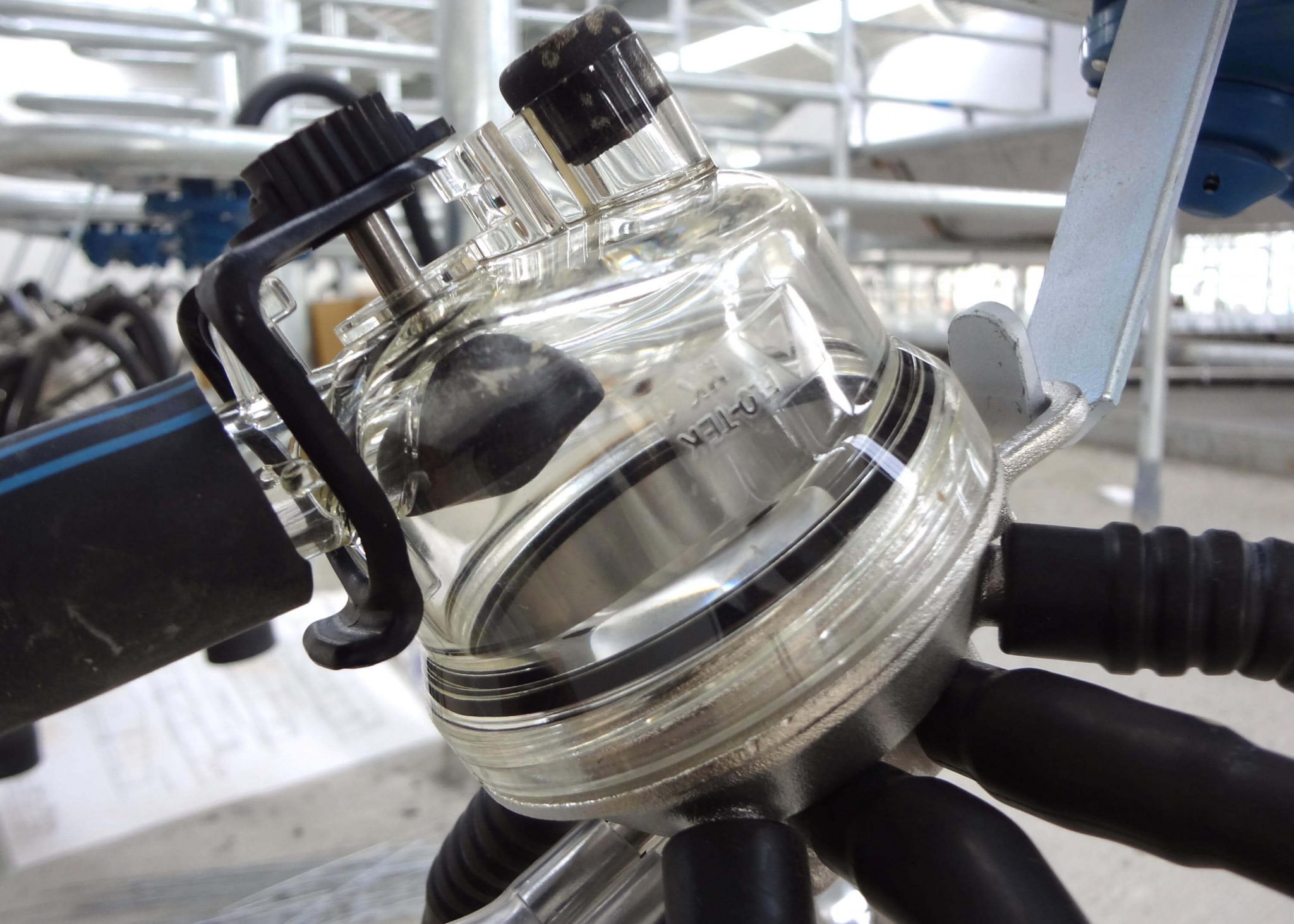 Cluster Bowls
We offer a choice of two cluster bowl sizes. The smallest is a 280 mL capacity bowl which is well above the recommended minimum of 150 mL needed to minimise cross-flow and contamination between quarters, as well as liner slip. The larger of our two cluster bowls has a 330 mL capacity. The choice of either is determined in practice, based on overall cluster weight relative to vacuum levels, the cow, and liner. We're happy to discuss any of this in further detail. Both sizes are available in 4 x 0 and 2 x 2 pulsation configurations.
Cluster weight
Different weights are available for our liners—we offer standard and lightweight stainless steel teat shells, as well as lightweight plastic claw-piece models. Fully assembled, our clusters have a weight range between 1800 g and 2540 g, giving the operator flexibility to tailor cluster weight to suit the cow, vacuum level and liner choice in order to reduce teat damage, cup slippage, and misalignment or falling.
Milk tubes
We supply rubber as well as semi-translucent silicone tubing for long milk tubes, for both 4 x 0 and 2 x 2 pulsation. These are more resistant to heat, UV, and physical damage than plain black rubber milk tubes. They also offer a high degree of flexibility, which help with udder mounting. Our short milk tubes are 10 mm in diameter and matched in length to the liners we supply. This minimises the chance of partial closure from kinking during milking.
Teat cup liners
Our newest cup liners are a one-piece square-barrel design made from food grade synthetic rubber. We also can supply two variations of the round-barrel type. Our liners range from 148 mm to 162 mm in length with mouthpiece diameters of 22 mm and 23 mm, and short milk tube lengths ranging from 142 mm to 172 mm. A typical lifespan for a twice daily milking schedule is about 2,500 milking sessions. Replacement is straightforward and can be carried out by the dairy operator or an authorised service dealer.
Rugged, easy to handle and gentle on the cow
And with claw pieces that are virtually indestructible