Read Agents – Changing the method and changing the perception.
To confront the rapidly changing world around us, we need to introduce change to be at the forefront of our markets. Inciting change is precisely what our Read agents are doing in Myanmar (Burma).  Recently visiting Read Industrial's manufacturing factory in Rangiora, New Zealand. Minthu shared his story. With an estimated population of 53million people in Myanmar (Burma), the opportunities for business growth and development are extensive. With research and development, Minthu has successfully launched two boutique dairy shops in Mandalay, Myanmar.  Now Minthu's goal is to support his agricultural customers with their business growth for efficiency.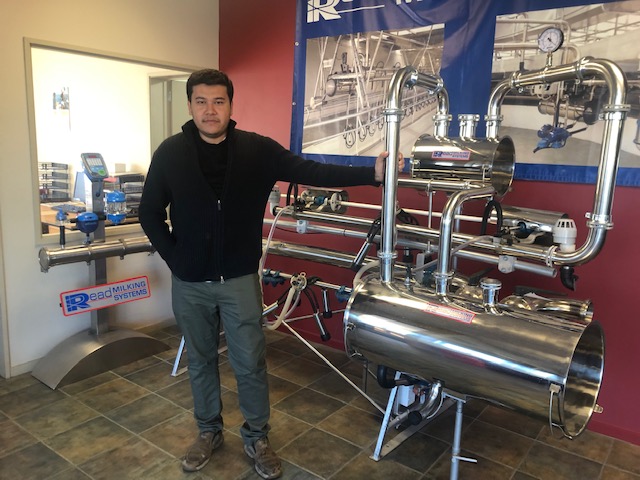 Minthu is now a Read Milking System Agent. So to, incorporate dairy system servicing, and consultancy for the installation of Milking Systems. Minthu is also a distributor of mechanical and electrical agricultural products.
Myanmar (Burma) is well known for being rich in the ancient history of Kings, royal palaces, and grand Buddha's. Growing up in the country town of Lashio in the North Shan State in Myanmar, our agent Minthu, developed his passion for electrical engineering. Minthus Father was an importer of electrical products and his uncle a dairy farmer. You could say his career was in his blood. After studying English communication and electronics in Yangoon, Myanmar, it was time to travel and explore. Minthu's travels lead him to Sydney Australia where he worked and studied to gain a degree in Electrical Engineering.
Living in Sydney, Australia and discovering the quality of dairy products was a game changer for Minthu who quickly became used to the quality of the dairy products available for everyday use. Minthu had been interested in the dairy industry for years. However, now Minthu had a completely new appreciation for the quality and benefits of the Australian products readily available.
After 11 years of being abroad studying engineering and researching agriculture, it was time for Minthu to return home to share his passion. Combining knowledge, research, and development of the family business "Natural Mountain Dairy Farm" was established.  The farm is in Lashio a 45minute drive from Mandalay as you drive towards the beautiful mountains of Pyin Oo Iwun. Pyin Oo Iwun is a favorite spot for tourists for its incredible waterfalls and the iconic Buddha Pagoda.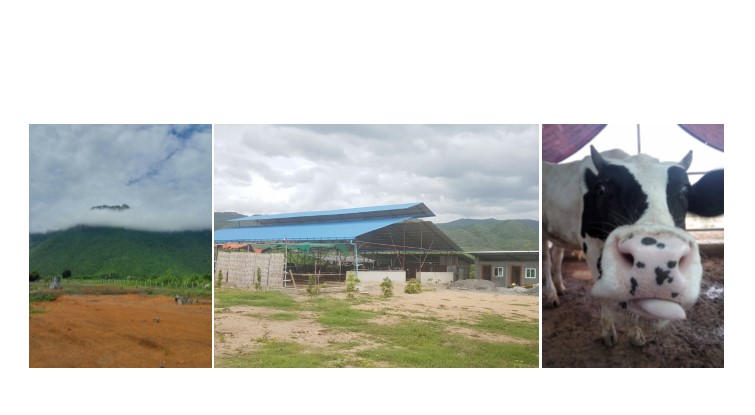 With humble beginnings, Minthu and his family started out milking two cows, Tall Girl, named for obvious reasons and another young cow with an old face commonly known as Ole girl. The herd has now grown to 20 cows, and the stores have developed from one store to two within a short timeframe.
The first Natural Mountain store is on the 80 street and 24 street corner of Mandalay. The second store on 82 and 27 street corners in Mandalay, situated west of the Palace 'shop. This is also where the milk processing takes place. Both stores stock the full cream and low-fat milk & the latest trend in yogurts.
The Natural Mountain family have an ethos towards animal care and wellness; the cows are treated with exceptional care. The cows enjoy eating natural feed grass with the assurance that no extra hormones are given for reproduction.  Care for the family herd is paramount with temperatures ranging from 18deg in winter and 42deg in summer. Consequently, protection & shelter from the heat and sun is an essential factor. In a place where people still milk by hand the Natural Mountain Dairy Farm family milk with bucket milkers with plans to one day build a new milking system. The family has a no-compromise moto to ensure they maintain consistant quality.
To change the Myanmar conventional method, Minthu has introduced a cooling system that ensures the milk quality is to the standard that – most developed countries know and enjoy.  Raw milk is pasteurised according to standards by the Natural Mountain family, but not too the level that spoils the taste or destroys the levels of protein and calcium that we love about our product, says Minthu.
Traditional dairy processing techniques in Myanmar involved raw milk and plain yogurt. The traditional Myanmar process being that the milk is fully boiled. Consequently, due to inconsistency in traditional processing, the milk often became over pasteurised with high heats developing an odour and caramelised look. Over pasturising changes the freshness of the product. This type of milk is commonly consumed warm due to lack of milk cooling.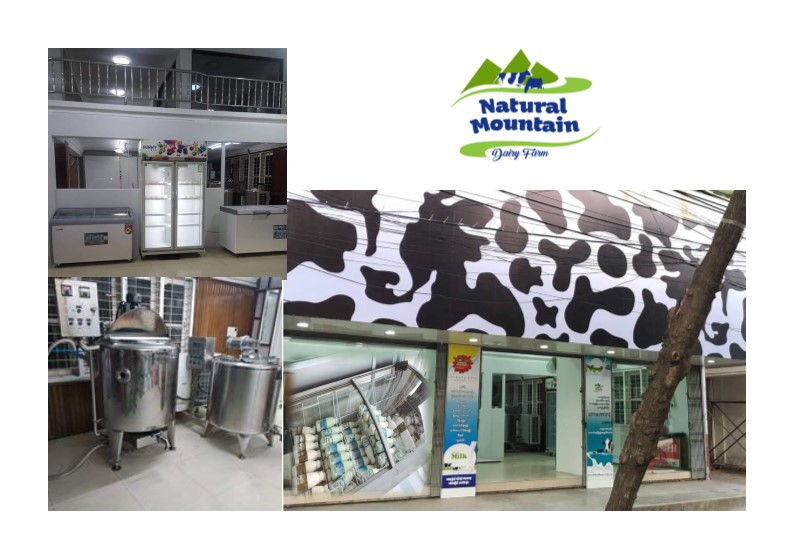 The perception of traditional methods being superior has been the biggest hurdle for Minthu and the Natural Mountain family.  However, Natural Mountain Dairy products are in great demand.
The Natural Mountain Dairy Farm stores have become increasingly popular in the boutique dairy market.  Yogurts contain fresh batches of probiotic bacteria for overall health and wellbeing. Locally grown seasonal fruit add to the yogurt's flavour including, strawberry, mango, dragon fruit & avocado. Natural Mountain Dairy is a socially conscious organisation that supports local growers. Grown on the farm then sent directly to the shop for processing.  With 5 people working on the family farm and 5 in the two stores, Minthu is finally living his dream life. A family business that's producing no compromise, quality dairy products for the people of Myanmar to enjoy.
Minthu's goal now is to provide business support for the growth and development within the dairy industry for his community. Including; dairy milking systems, agricultural engineering supplies, service, and consultancy.
If you would like to find out more about Natural Mountain Dairy Farm products,
Please contact: Minthu  +95 9 765 260 470